Yeah. I tried it. I gave it a good run of peeing into a vinegar bottle and pooing into my own toilet into a bag with (super stinky) cat litter in it. Did it work for me? Let's get right to it.
The Peeing Standing Up Thing
Yeah, nope. I am not a man.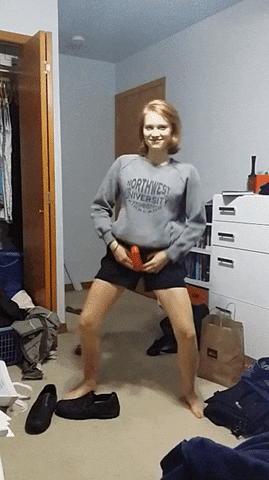 This proves it if nothing else does. I had to stand up like a man in order to pee into a bottle. To pee standing up without spraying urine all over my awesome little tiny abode, I also had to use a female urinary device that looks like a funnel.
I did not find a way that I could comfortably sit while using it. I didn't think it would be a big deal having to stand, but it was- and here's why.
The Long Reach Down
My she pee device (I just like calling it that, it's not an official She Pee) is pretty much is just a special shaped funnel. To use it, you have to hold it against your girly bits. And stand. You can't even choose to sit and pee like a man can. No fair.
Holding it there is a bit of a problem for me. The thing is, my girly bits are a good distance to have to reach. Why? Because I have a pretty fantastically long torso. So it's like my arms are a little short in reaching that area. (Is this how it is for all girls? I really don't know.)
I am not a man, but I sure do like them. I'm not going to show you my long bare torso, but here's a very nice toned and lean man torso: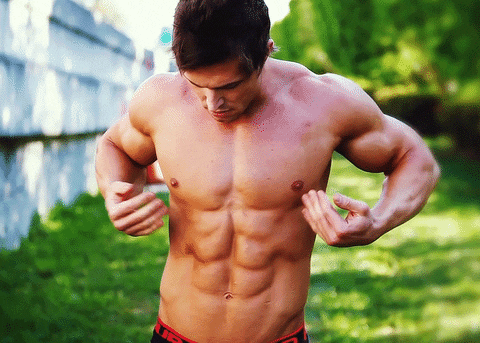 Aaaahhh, a thing of beauty! Oh, and hey, off the subject, but this verrrry nice gif reminds me- I AM SINGLE. I have to keep reiterating that Marshall and I are NOT TOGETHER. At all. We are like brother and sister. But he's awesome. Anyone know a nice single lady friend for him? Who RVs? Who has her own RV? He's been on the market, gals!
Whoops, sorry, I ADD'ed out again. Back to it.
Further Complications In Standing And Peeing
So, to hold the device up to my bits, I have to hunch over. Which is not so bad, except that you also have to pee INTO something. I chose an empty vinegar bottle with a handle. The increased issue here is that I have to FURTHER hunch over to hold the bottle down below the urinary device so that I can pee into it.
Already, this is a lot of work just to pee. I have to stand, hunched, holding two items, which is not so comfortable. Also, I have to wash it off after each use. It won't fit under my tiny bathroom sink so I have to do it in my kitchen sink.
Eew.
I was also afraid I would one day SPILL the vinegar bottle before I could get it closed. If you know me, you know this is a VERY likely scenario.
I tried it though. I tried it again and again, and I swear there were a couple of times when, because of the hunching, I  felt my back "twinge", and I feared it going out on a massive scale again, just like it did during my great axe incident back in 2016.
With that, the she pee method is not a good idea for moi. It's the #1 reason I won't be a "bucket toilet" girl.
The Caca Chronicles
Ok, so pooing- we all do it. We all look at it. We all smell it. We all like how our own poo smells. (Don't we?) We all look at what ended up on the toilet paper after wiping. (How else do you know if you got it all?)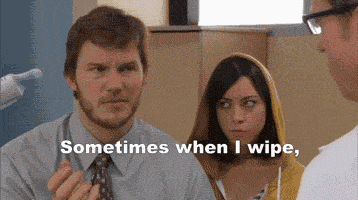 For these reasons, I thought that using the bucket method of pooing into a bag then covering it with some sort of medium would be no problem whatsoever. No real difference.
Until I tried it.
It really wasn't so bad. Actually, the WORST part (which was easily fixable) was that I decided to use cat litter for my medium.
What I HATED about it was that the cat litter was scented. Ugh, it was some stupid flowery cat litter smell. It made my whole bathroom stink, and to some extent, it made my trailer stink. I'd rather smell my poo than that nonsense.
Yes, I could have bought a different brand, which I started to do until I realized I could just use dirt to cover it. Plenty of that around. So that morning I threw away the cat litter and breathed a sigh of relief. I tied up the bag of the offending smelly cat litter and put it in the back of my truck.
The Final Straw For The Bucket Method
That next day, I didn't have to go ALL DAY. Strange, and I only realized this because Marshall asked me how it went or what I was using, and I was surprised to realize that I hadn't used ANYTHING. Therefore, still not having to go, I went to bed.
The next morning it was cold. I got up, and I felt the call of nature. However, I had nothing to cover my upcoming drop-offs with. It was too cold for me to go outside that early. I simply didn't want to deal with it.
Not realizing I COULD have just gone in the bag and not covered it (duh) since I have a lid to the toilet, I gave up, threw in the towel, ripped the bag out of the clean dry toilet and let 'er rip into my good old-fashioned toilet. It felt so good!
I'm calling the bucket method, for me, a FAIL.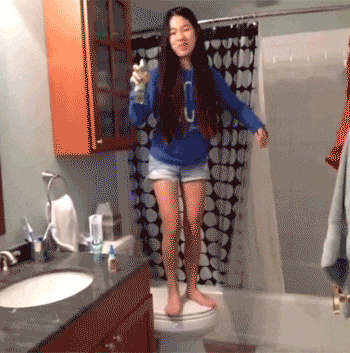 And with that, I am officially a Bucket Toilet adversary. You're looking at a future composting toilet kind of gal.  THAT I can doo doo!
Now THAT I can doo doo!